Franchise management
Re-Imagined
Complete Contactless
Payment & Ordering System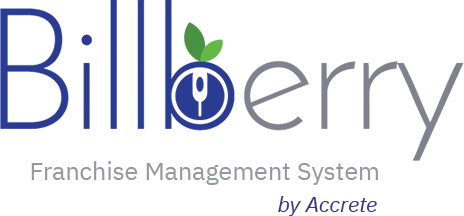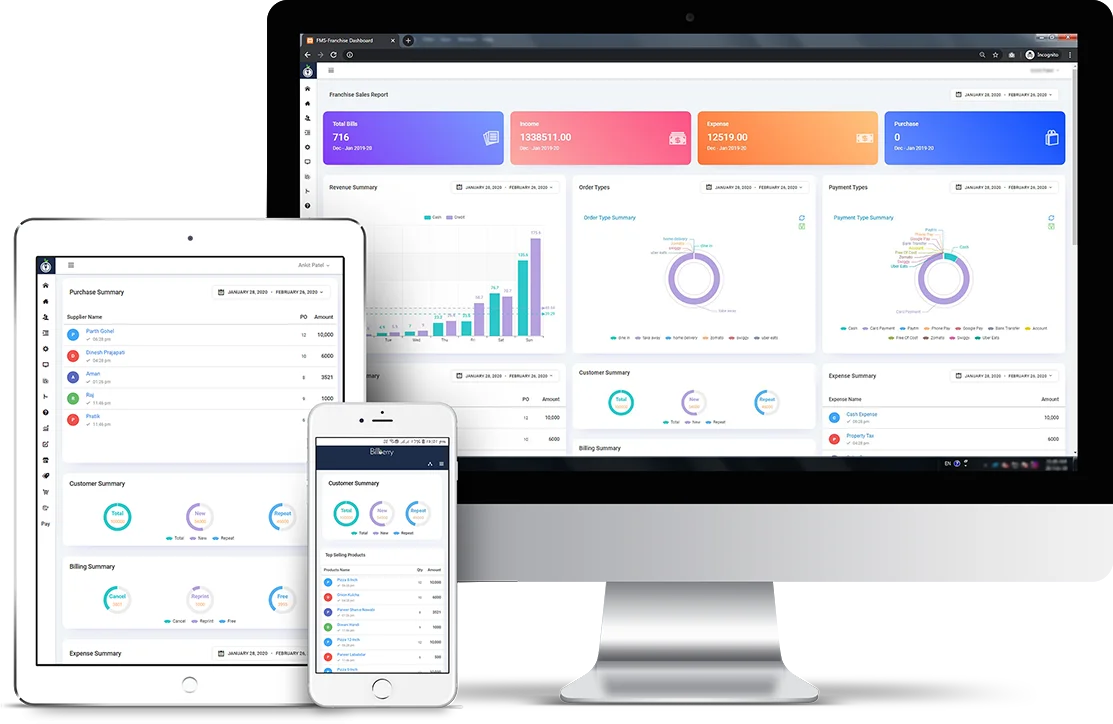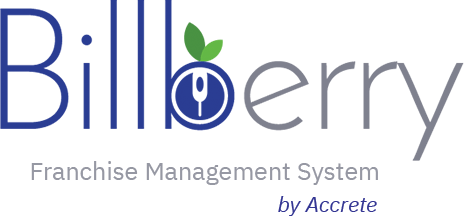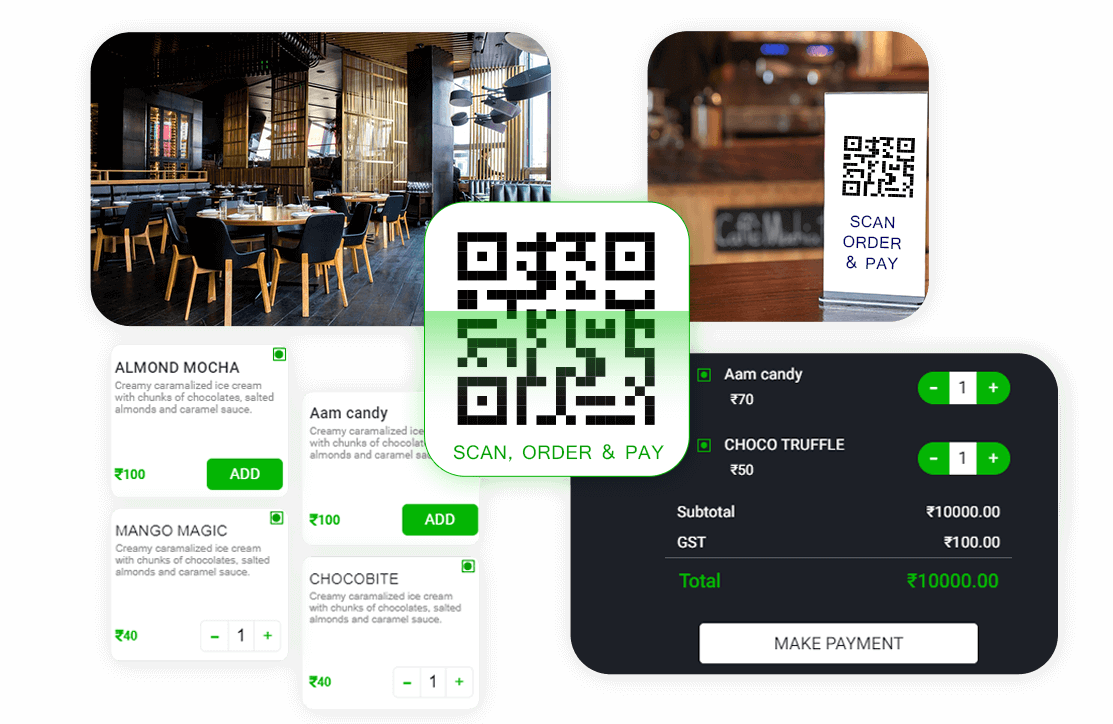 Scaling From One Unit To Large Franchise House Is Not A Joke..!
Complete solution for restaurants, QSR, Cafe Shops, Sweet Shops, Ice Cream Parlours etc who dreams to be a big business house. There are many things beyond POS once you scale as a franchise.
Now, say goodbye to your nightmares of stock management, operation management, sales management, customer engagements, etc. You remain focused on core component areas of your business through a centralised control. Our system will set the optimum standard business processes to help you scale & grow in a uniform manner.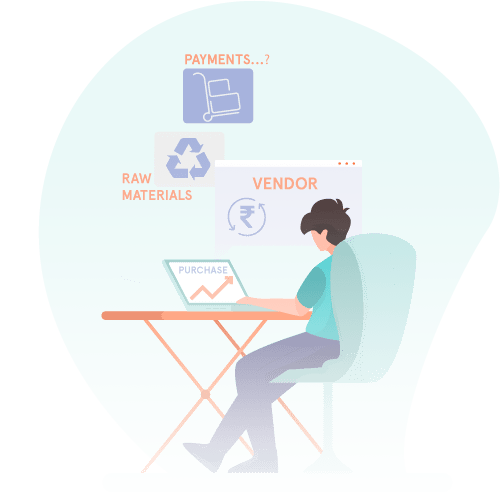 Procurement

Management

Precise procurement saves a lot of money for you. Whether you have centralized or decentralized procurement, you need a complete eye on your procurement for accurate measurement of food cost. As wise people say "First profit comes from your procurement". Billberry will also help you to monitor your payment against your procurement to avoid issues like double payment, inaccurate billing etc.

Learn More
Production

Management

With the billberry system, you can monitor how much production is processed against your demand. Moreover, our state of art production (or manufacturing) management keeps your team aware of how much raw material is required for your overall demand of finished/semi-finished food. So now it is easy to monitor; how your kitchen is operating.

Learn More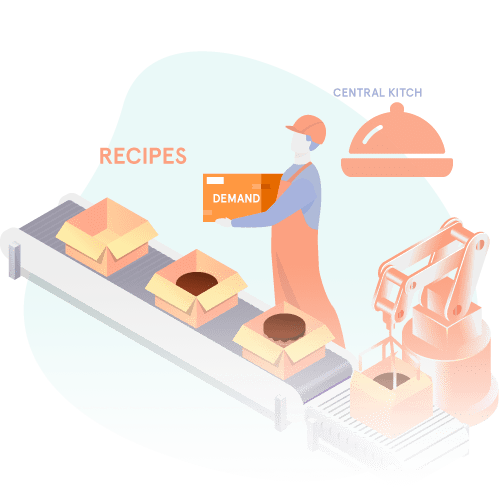 Intuitive Reports

& Analysis

Monitor anything from anywhere through your mobile with our real-time dashboard data analysis. Improve your decision-making through data & analysis available at your fingertips. Our meticulous analytical reports help you to thrive in maximizing profits.

Learn More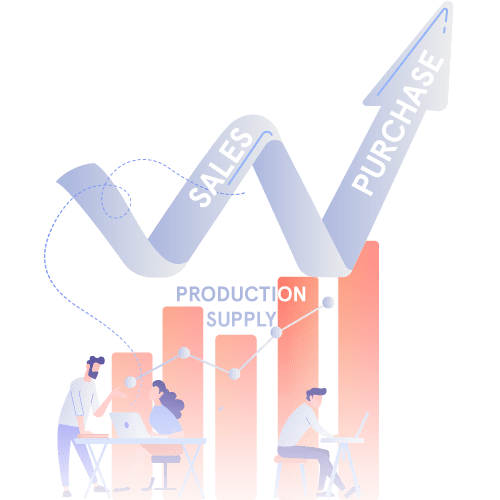 Your Online Store + Contactless Ordering (Commission Free Setup)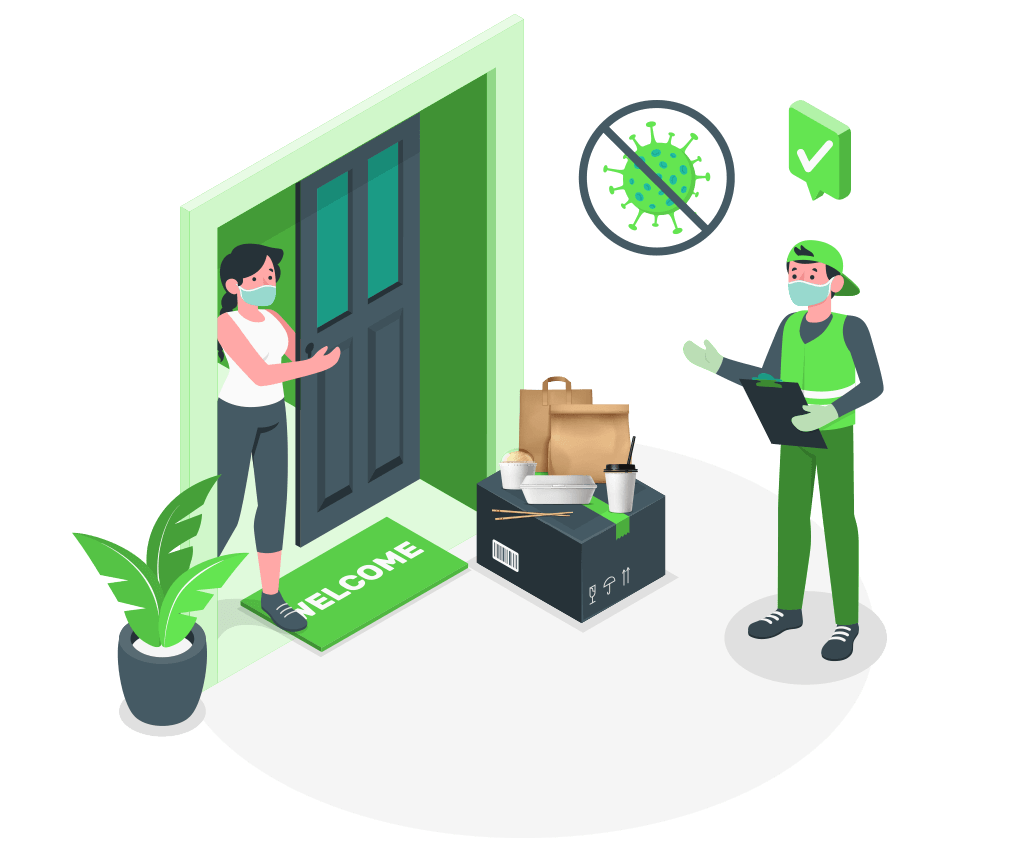 FEATURE HIGHLIGHTS
New Contactless Delivery Models
Introduce new revenue stream

Add online ordering system portal as your new revenue model. Day by day trend will increase to order food directly through your website.

Allow customers to schedule orders for pickup and home delivery

Allow guests to schedule an order with advance payment from menu available for pickup or contactless delivery.

Zero commission fees

Reduce your food cost by denying to commission often charged by third-party platforms. Only standard transaction charges are applicable.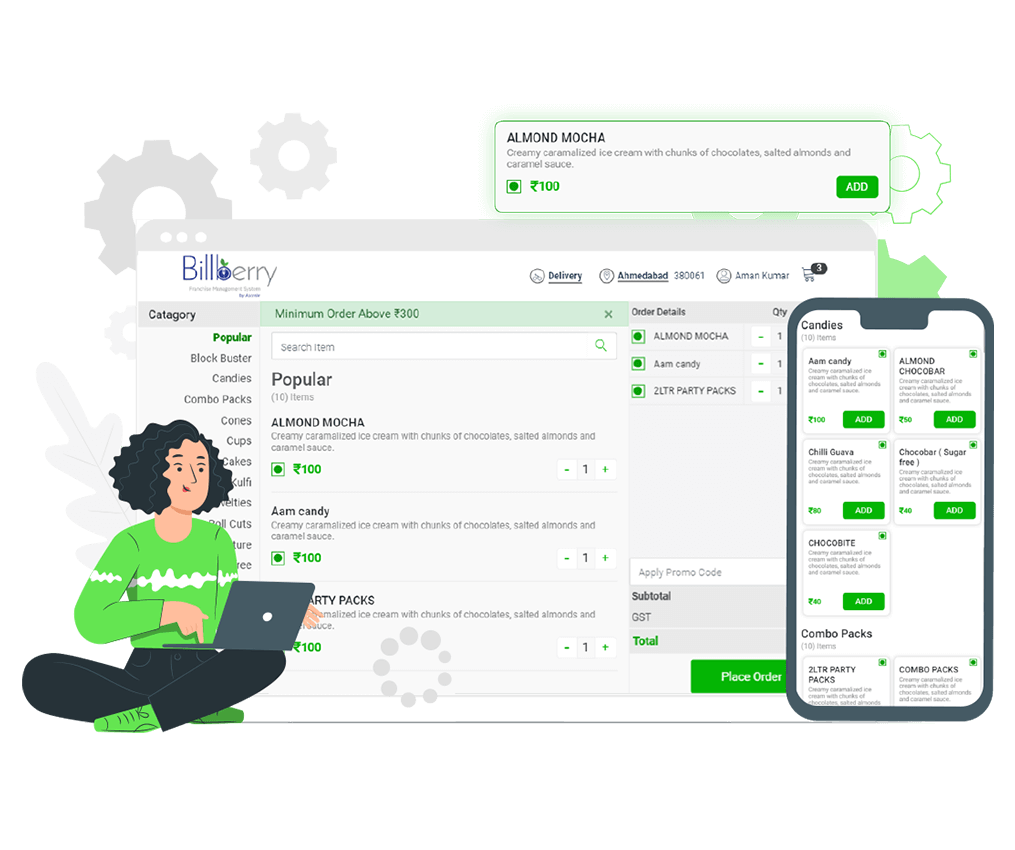 Make Your Own Online Store
Online Ordering
We enable you to set up your own online store to keep revenue afloat during these uncertain-times. Surprisingly, it is commission-free.
Explore All Features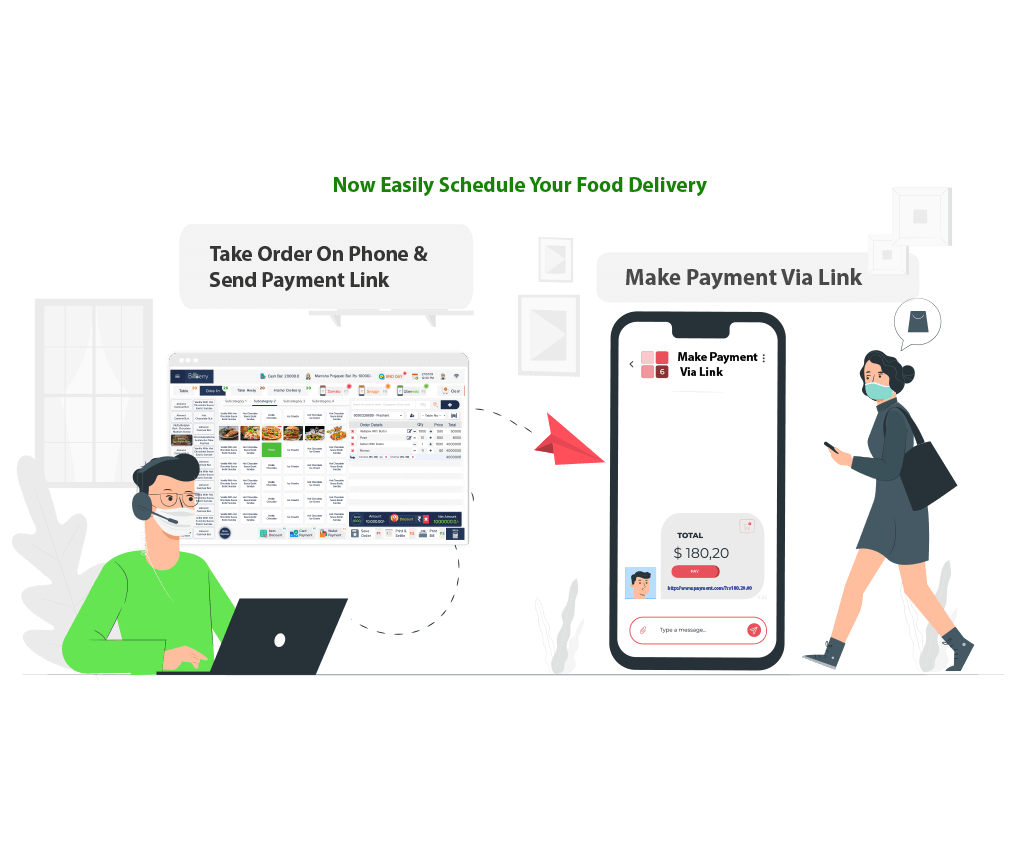 Single Click Payment
Order On Phone
Don't hesitate to take orders over a call; we will take care of your payment. You can send payment link on SMS to collect payment and customer can easily pickup their food.
Explore All Features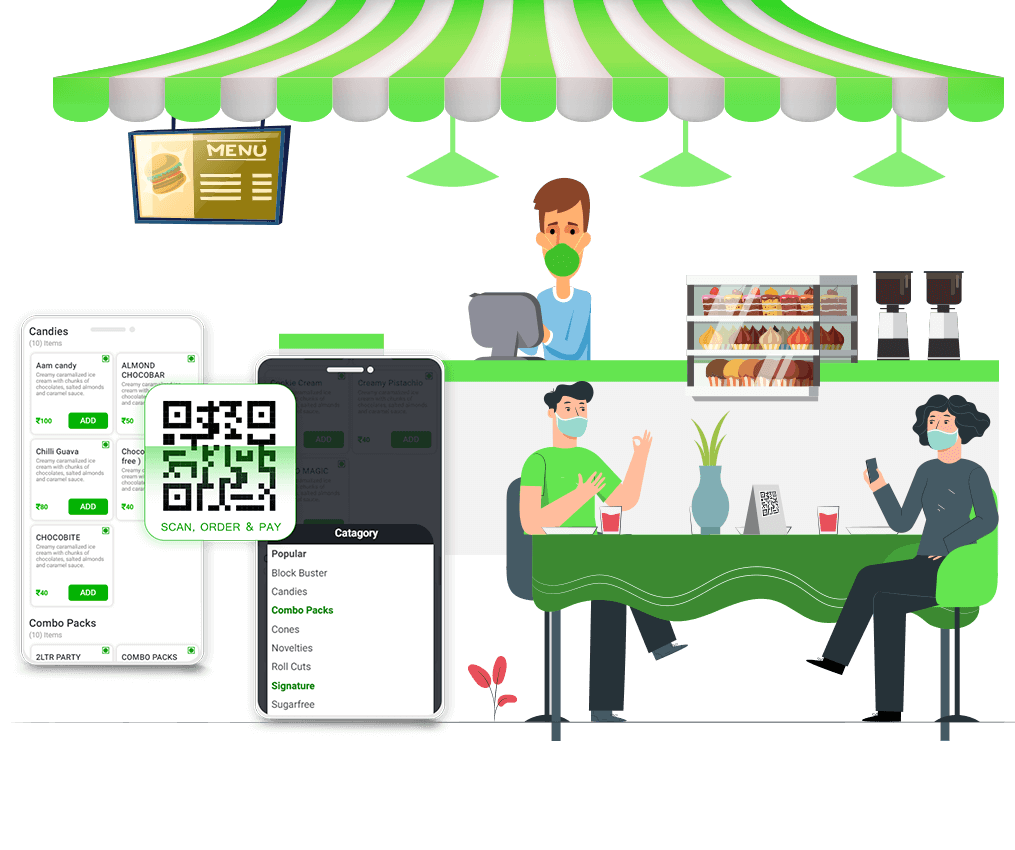 Contactless Order System
Digital QR Code Menu
Replace your in-store menu with QR based digital menu where customer can order and pay without downloading special app. Complete contactless ordering system integrated with your POS.
Explore All Features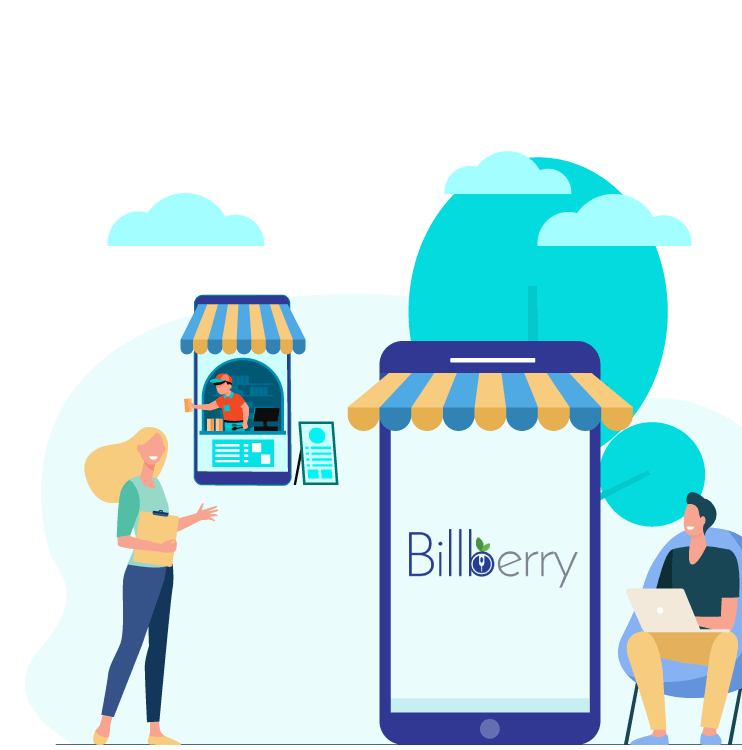 Feature Highlights
What makes Billberry the perfect solution for a franchise business?
Online food-ordering app integration
Powerful communication channel
Real-time transaction tracking & reports
End to end process management
Explore All Features
trusted by many reputed franchisies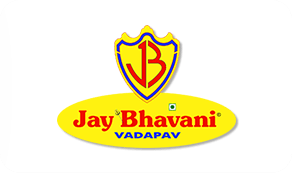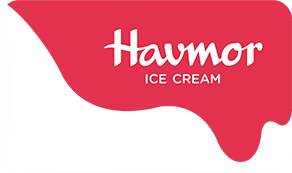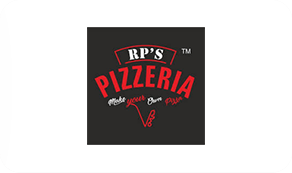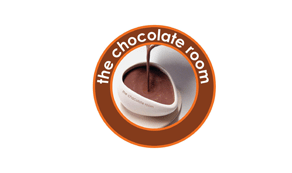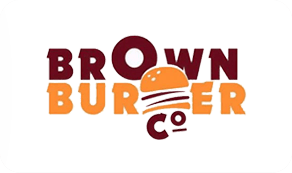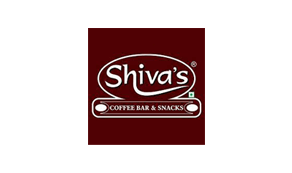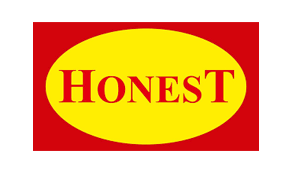 Testimonials
Billberry software has been immensely helpful in order to manage the entire franchise operations from a central location, with great ease of use. It has certainly boosted our efficiency and changed the way we make decision.
Jay Bhavani
We are successfully leveraging Billberry to get the tedious tasks done and it allows us to concentrate better on analytical and managerial tasks. Everything is now smooth and streamlined, better then ever!
RP's Pizzeria
From material procurement to point of sale to customer feedback to inventory reports, everything is so accurately detailed that you can rely your business upon. Billberry is a real superhero for franchise management.
Marco's
A to Z Operations
Control the proces from procurement to point of sale.
Schemes & Offers
Provide schemes and offers for all outlets from one place.
Centralised Control
Manage and control all outlets from one central location.
Business Oriented
Powerful software to help you optimize your business process.
Perfect Solution
Billberry makes franchise management easier than ever before!
Billberry franchise management system lets you manage youe entire franchise operations from one central location. You can control all the outlets and track their transactions from detailed real-time reports. Also, you can run location specific schemes and offers.
Explore All Features
Why Choose Us?
Billberry is proven to be
the Best!
Optimized Speed
and Quality
Super Flexible and
User Friendly
Modules to manage
all franchise tasks
Real-Time Data and
Detailed Reports
Outstanding Customer
Support
Free training and after
sale support
Streamlined Process
Minimum Paperwork
Easily Scaleable for
Fast-Paced operations